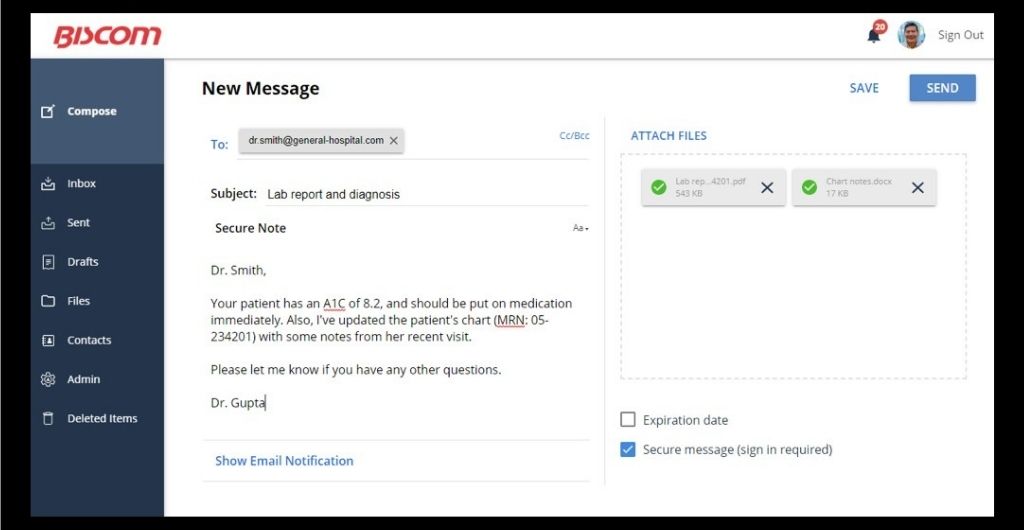 COVID-19 forced healthcare providers to think quickly about how to best ensure that staff and practitioners could work remotely and remain connected, both from home and at triage sites, all while working to maintain exceptional patient care. While meeting the most stringent security requirements and regulations, Transit enables healthcare employees to easily share confidential, and oftentimes, sensitive ePHI within a matter of seconds to help patients get the care they need fast.
Biscom Transit is a cloud-based, secure file transfer and messaging solution. Designed with an intuitive user interface that mimics email's simplicity, Biscom Transit enables organizations to easily and securely deliver confidential files and private data of any size attachment. The concept of Transit was born as a response to a national study commissioned by Biscom that revealed that 75% of employees admit to sending private and confidential data through insecure methods like email. The primary reasons cited for this non-compliance was complexity and time, with rates even worse for regulated industries like healthcare. By integrating directly with users' email, Transit addresses these issues with a simple user experience that does not sacrifice security in the back end.
In 2019, Biscom announced integrations for Box Microsoft OneDrive, and Dropbox, with Google Drive integration forthcoming, enabling users to easily and securely share files from their cloud repositories with integrated audit logging. Built for regulated industries with highly confidential information, Transit meets the most stringent security requirements, including HIPAA, SOX, and FERPA.
Biscom Transit security features include:
● Microsoft Outlook plug-in
● FIPS 140-2 certified AES 256-bit encryption required for federal government
● Multi-tiered/multi-tenant architecture for security and privacy
● Acceleration built into the system to speed up large file transfers
● Secure email replies
● Secure collaboration for teams
● Data retention policies With stricter regulations and the costly impact of the loss of a client's intellectual property and confidentiality, it is now more vital than ever that products can be clearly understood and used. When developing a solution, security is often the most important consideration– but a great user experience can be a security feature in itself, as it increases adoption and compliance.
Email is fast becoming an inadequate tool within healthcare to share confidential and private information that is increasingly sensitive in nature. This includes sharing attachments that contain confidential files like patient health records or files that are simply too large for email systems on both the sender's side and more commonly, the recipient's end, such as high-resolution MRIs or DICOM images.
Transit enables healthcare employees to easily share confidential, and oftentimes, sensitive information within a matter of seconds to help patients get the care they need fast. Additionally, Transit integrates with today's biggest cloud repository solutions including Dropbox, Box, and Microsoft OneDrive to help organizations seamlessly share files within a single, secure platform. Enabling complete security and full visibility for unified audit trails, as well as maintaining the security of files and secure content, Transit ensures that all files can only be accessed by authorized users over a secure TLS connection.
With ease-of-use and security at its core, additional features that help healthcare workers securely share data include:
● Cloud storage
● Secure file transfer
● Secure email
● Mobile access
● RESTful APIs for integration with existing applications
● Secure collaboration/workspaces
● Fax integration with Biscom's enterprise fax platform used by millions of users
Additionally, the most differentiated security aspects include:
● FIPS 140-2 AES 256-bit encryption
● Multi-tenant architecture
● No data commingling
● Dashboard and real-time analytics Biscom Transit is designed for end-users, yet is powerful enough for the most critical HIT administrators who require total control and visibility.
Typically an IT-heavy process, Biscom Transit is now making file sharing easy for end-users without a steep learning curve, helping healthcare employees provide optimal care for patients, faster. The application does not change employee behavior, as it compliments commonly used file hosting services. These integrations make the transition to Transit seamless, and thus maximizes user adoption while maintaining complete security when sharing the most sensitive and mission-critical files.
Transit customers love the product because it does what it sets out to do – give companies an absolutely secure way of sending and sharing files that their employees will actually use. With COVID restrictions, companies appreciate a secure solution that can be used by remote workers that meet the compliance and security requirements of IT security groups. Customers make specific note of two big differentiators for Biscom — reliability and service.
Biscom solutions are designed with a powerful back end for reliability, which is key to our customers' success. Biscom's award-winning customer service is grounded in deep technical internal knowledge. On average, Biscom engineers and support staff have been with the company for an average of 11 years, giving them exceptional capabilities when it comes to everything from implementation to configuration.