Dan Danaher talks to Consultant Dermatologist and fellowship-trained Mohs Micrographic Surgeon Dr Rupert Barry about the benefits of DermView Clinic's new Teledermatology Scanning technology in the management of a skin condition whose prevalence is fast increasing
Statistics from the Central Statistics Office show that skin cancer including melanoma and non-melanoma is projected to increase by 130 per cent and 150 per cent in Ireland and globally for the next 10 to 15 years. Up to 1,200 new cases of skin melanoma are diagnosed every year and about 11,000 Irish people get their first non-melanoma skin cancer on an annual basis.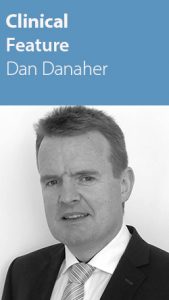 With 46,850 patients on the public outpatient dermatology list, according to National Treatment Purchase Fund (NTPF) on August 27 last, Teledermatology is the quickest way to get a diagnosis from a consultant dermatologist.
Before the Covid-19 pandemic, a routine public dermatology appointment could take three or four years, while an urgent one could take up to 12 months.
A private dermatology appointment could vary from a few months to six to nine months for routine cases.
Ireland's only rapid teledermatology diagnosis service, DermView, is a new service, which eliminates the stress and anxiety of waiting to get a diagnosis from a consultant dermatologist, for a mole, lesion, rash, or skin check.
More than 300 patients have used the service since it was launched in July and the pre-pilot last year.
DermView Clinic Teledermatology scans up to five areas of the body including intimate areas before they are reviewed remotely by one of their 11 consultant dermatologists for a €160 consultation fee.
On average, a consultation will take up to 20 minutes and results will be available within 30 days.
DermView consultants will see a rash, but patients will require a referral by a general practitioner (GP) as there is a strong possibility that further management will be required from the GP.
Nationwide, clinics are open in Naas, Navan, Santry, Portlaoise, Tullamore, Waterford, Wexford, Athlone, Balbriggan, Carrickmines, Castlebar, Clonmel, Dublin City, Dundalk, Enniscorthy, Kilkenny, Letterkenny, Longford, Mullingar, and Cork city.
New clinics that are scheduled to open by the end of this year include Gorey, Tallaght, Ennis, Limerick, Galway, Glenties, Tralee, Monaghan and Tramore.
DermView technology
While DermView is in existence for two years, the concept is three years old. Ten years ago, one of the leading exponents of Teledermatology in the United Kingdom asked Dr Rupert Barry, Consultant Dermatologist and Mohs Micrographic Surgeon, to get involved but he was not eager to do so because the quality of the photography was not good enough.
Difficulties interpreting prosaic written referral letters for urgent cases in particular prompted Dr Barry, who is based in the Dermatology Department at St James' Hospital, Dublin, to seek the development of an accurate photography Teledermatology tool to allow the correct triaging of patients based on their clinical need.
Dr Barry explains it is "very difficult" to obtain an accurate correlation of what the GP is seeing from the patient and have this accurately interpreted by the reviewing consultant without the benefit of photography.
After spending 18 months perfecting the photography, Dr Barry is now "very happy" with the quality of DermView's images.
The company also built an IT platform to Health Service Executive (HSE) and National Health Service standards. Once the imaging series is taken of the skin condition, it is then sent to the company's secure IT platform, and together with the patient's history they are sent for review to one of the 11 consultant dermatologists.
A pre-pilot study of 160 patients who had Teledermatology and were reviewed by Dr Barry revealed in 55 per cent of cases they did not need to be seen in person by a consultant dermatologist.
Dr Barry says other dermatology studies in London and the wider United Kingdom and Australia reveal between 40 and 55 per cent of people who use Teledermatology do not need to access the expensive hospital-delivered care. The other major benefit is patients who require further treatment will be quickly referred to the most appropriate setting as an urgent or routine case, depending on their clinical need.
DermView is tailor-made for the diagnosis of all benign and malignant lesional conditions and acute rashes because it can provide Teledermatology and Teledermoscopy on the one patient.
Family doctors can easily refer patients through Healthlink or any of their electronic medical referral systems such as Clanwilliam Health. All of the 11 consultant dermatologists working with DermView have total clinical autonomy to treat patients and can see the patient face-to-face for follow-up treatment if this is their preferred choice.
Teledermatology is an additional service and will not replace the need for face-to-face consultations where there is a clinical need for the latter.
International data
About one in four patients will attend their GP with a skin condition being the primary cause of their consultation every year.
Of this group, between 6 and 15 per cent will require referral on to a hospital specialist.
Once a person gets one non-melanoma skin cancer, which is a clinical surrogate marker of sun damage, they are much more likely to get a second one over the following three or four years.
In fact, international data suggests if a person gets one of the two most common types — a basal cell carcinoma or a squamous cell carcinoma — they have a 30 per cent chance of getting a second one within three to four years, the second incidence will result in a 45 to 50 per cent chance of getting a third one, as it becomes an ever-fulfilling prophesy going forward.
"When I started in dermatology nearly 20 years ago, generally non-melanoma skin cancers were the clinical remit of people over 60 years of age.
"We are now seeing very significant numbers of cases in the under-60s and -40s and sometimes under-30s, which is related to different lifestyles and different exposures."
Dr Barry says a lot of skin conditions are relatively benign and can be managed virtually using Teledermatology with advice from a specialist through a primary care doctor.
"Accurate photography can give the reviewing consultant the capability of accurately assessing and clinically triaging a patient, so they access the level of care they need in the appropriate timeframe.
"If you have an accurate photograph, you can triage patients who are truly urgent. One of the current difficulties is a lot of conditions are being marked as 'urgent', but they turn out as non-urgent cases."
"Inflammatory skin dermatosis such as psoriasis or severe eczema can have very severe impact on the patient's quality of life, Dr Barry says.
"If a patient can access specialist dermatology care more quickly, they will receive treatment earlier and this will have a better outcome on their quality of life.
"Accessing appropriate care and seeing the condition improve in a more rapid timeframe also has cost-benefit gains to the healthcare system.
"Particularly for cancer care, the sooner the diagnosis is made and if the cancer can be caught early, this has a major benefit on the prognosis of the tumour into the future.
"If a melanoma is caught early, it is highly likely a surgical cure can be achieved which may avoid the need for extensive adjunctive therapy or radiological assessment. Care in this instance can all be managed in an outpatient setting in the hospital."
Research from Australia has shown the earlier melanomas can be detected and removed and this leads to a corresponding reduction in mortality and morbidity. Rashes make up about a third of dermatology referrals, two-thirds of which are lesional.
HSE Teledermatology pilot
Following discussions with the HSE, DermView are in the process of launching a HSE Teledermatology pilot in St James' Hospital, which will run from October to December involving between 250 and 300 patients.
DermView is confident it has the capacity to reduce the growing numbers of the public dermatology waiting list, which is the third longest in the health service.
Sláintecare
DermView fits into the drive to provide more care in the community as family doctors who have the specialist technology can send images to the consultant dermatologists.
In this way, a significant number of patients could be managed in the community by their local doctors with advice on diagnosis and guidance management being provided remotely but the specialist dermatologist using DermView technology.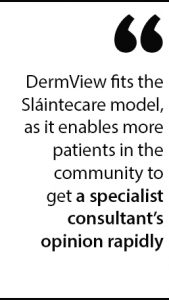 Two-thirds of all dermatology referrals are lesional and involve a query of a possible skin cancer.
Dr Barry says it is important to be conscious of the causal link between significant sunburn in childhood and early adulthood and the potential risk of developing skin cancer in adulthood.
He outlines that children and young adults can enjoy outdoor activities whilst taking the necessary precautions to avoid getting sunburn. He warns sunbed usage is strongly associated with a significant risk of skin cancer development at an early age.
"People need to check their skin and know what their moles look like. If their moles are changing in size, shape or colour or causing itching or bleeding, seek a GP's advice.
"Middle-aged males are particularly poor at accessing healthcare advice. I saw a person recently with a changing mole with an obvious melanoma on an upper limb.
He had it for a year and thought nothing of it until he attended his GP for something else. His GP immediately noted the melanoma and referred him to the melanoma clinic where it was excised. We reviewed him and excised the melanoma."
Mohs Surgery Units
The first Mohs micrographic surgery in the public service was set up in St James' Hospital, Dublin by Dr Patrick Ormond in 2006 and he was joined in 2012 by Dr Barry as the second Mohs surgeon.

Almost 3,000 patients have been treated and the service has an annual throughput of between 450-500 cases of non-melanoma skin cancer, which are recurrent and have returned after previous treatment, surgery, or radiation.
The first one in Ireland was established in Cork by Consultant Dermatologist Dr Billy O'Connor as a private venture and Mohs Surgeon Dr Kate Gleeson has opened a second unit for public patients in Cork.
Dr Barry says this unit has enabled patients to access a high-quality Mohs surgery service and explains that they work very closely with their colleagues in plastic surgery, and maxillofacial and ear, nose and throat (ENT) surgery.
Previously, public patients had to travel to London or Manchester in the UK to access Mohs micrographic surgery.
"It is an excellent service that is very labour intensive. It is generally for patients with ill-defined tumours on critically central facial sites," Dr Barry says.

All photos: Les Kelly
https://www.imt.ie/clinical/dermview-enables-faster-access-specialist-dermatologist-opinion-nationwide-30-09-2020/