An internal Meta file from April, which was recently leaked to the media, shows that the company plans to turn Facebook into something more akin to TikTok. The memo, obtained by The Verge, concerns a series of actions by Tom Alison, the head of Facebook's applications.
The idea is to convert the main content of the social network into a set of recommended posts, including posts from unknown people. Today, the platform prioritizes postings from your friends, pages you like, and groups your users engage in. With this switch, people will start seeing random algorithm-based posts based on their preferences.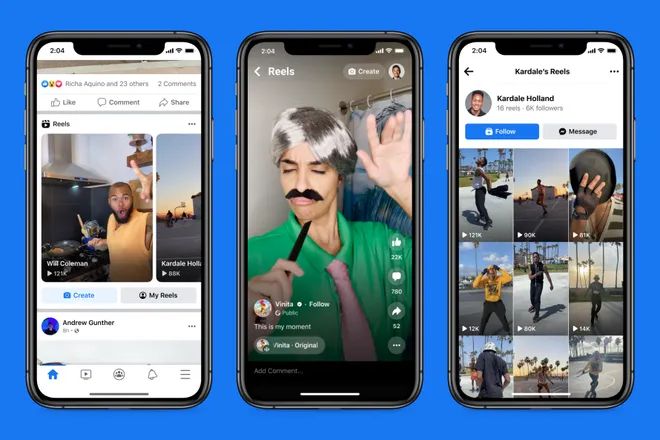 At the top of the screen are stories and scrolls, and just below are recommended publications based on a recommendation algorithm. The focus will be on delivering a more visual and video-oriented experience, including interactive options, and making it easier to recommend content to friends.
The strategy is to integrate a hybrid system between feed posts and videos from Reels — which landed on the platform in February 2022. The Reels recommendation algorithm already exists on Instagram and helps strengthen the format in the web dedicated to photos. There, you can scroll horizontally to see short videos from creators you don't follow.
In the statement, Alison reportedly told employees that dropping the idea could stagnate the app without the natural evolution that society demands. It's worth remembering that TikTok not long ago was no longer just a promise, but a threat to the Meta platform's dominance.
Return to Facebook from Messenger
In a review for The Verge, Alison would confirm the app's plans, but it would be too slow in the face of "competitive threats" from Chinese rivals. The executive will say that Meta sees short-video programming as "an intruder into its territory," previously dominated by tranquility.
Another discovery of the leaked files is the return of Messenger as a Facebook tool, rather than a separate app. This will be an important part of a "tiktokizing" Face strategy, as it helps reinforce direct messages, just like TikTok and Instagram.
The return of the Messenger inbox may encourage people to return to the solution for chatting. Today, the fact that you need to download it from the iOS or Android app store discourages its use — not to mention some of the occasional bugs when switching from Facebook to Messenger.
Facebook seems a little late to jump on the short-video wave, and even its most "modern" social network, Instagram, can't stop TikTok's frenzy pace. Even so, Meta's efforts to keep its flagship product up and running are remarkable, after all the Facebook brand still has a huge presence in the world.
Source: The Verge