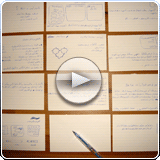 If you haven't heard the term 'mind mapping' you could be forgiven for thinking it was something sinister from 1984, or perhaps some high tech secret service interrogation technique.
In fact, it's a diagramming technique that has been used for many years for capturing, analysing and expressing thoughts and ideas in a very visual manner. When you see people sitting quietly in the corner of a meeting drawing 'spider diagrams' in their notebook, that's mind mapping, and it's based on the premise that the brain often processes and retains information and concepts more effectively through pictures rather than words.
Over the years, however, it's been a pretty niche skill practiced by certain types of people whose brain works in a certain type of way, but with the advent of mind mapping software the whole area has become more accessible. Aided by technology, mind mapping can be a pretty effective way for pretty much anyone to create order from the chaos of the world around them more effectively – in a model, at least, but that's not a bad starting point.
As a result, mind mapping is starting to find its place in the mainstream in areas ranging from requirements capture and project management, through risk assessment and analysis, to even general team collaboration.
But let's not spoil the fun as a couple of guys from Freeform Dynamics and Mindjet who have experience of this whole area have made a video for you to watch, taking you through not just the theory and use of mind mapping as a personal productivity aid, but the application of mapping technology in a variety of commonly encountered IT and business scenarios. So, if you want to explore the potential, and get some practical real world advice into the bargain, watch this Regcast on the topic.
You will have to register, or log in, in order to view this webinar.