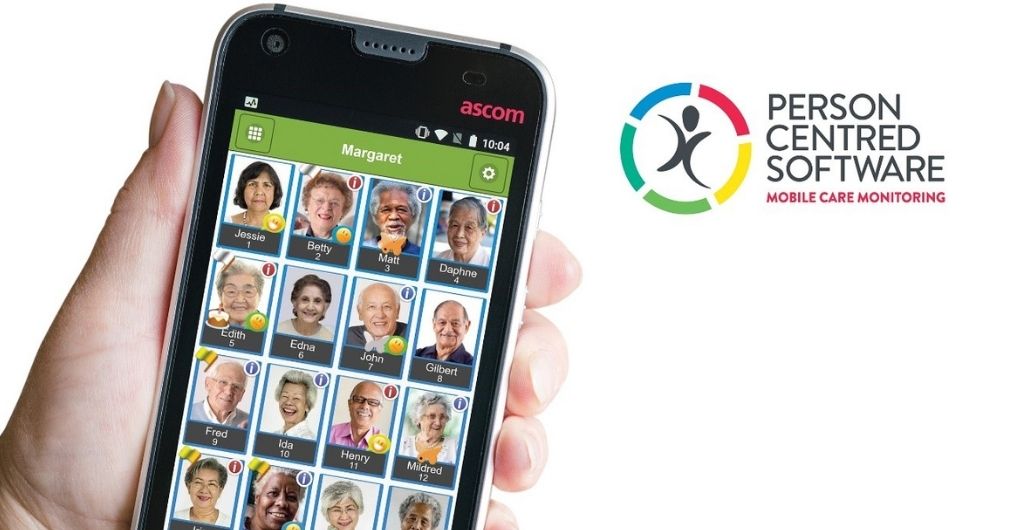 Person Centred Software's Mobile Care Monitoring is the most widely-used digital care system in the UK, and most widely-referred software provider within social care. Mobile Care Monitoring is the first fully mobile and easiest to use evidence of care system. Homes using the icon-driven system evidence over 50 care notes per resident per day, which isn't possible on paper or other systems. The digital care system reduces time spent on paperwork with care interactions evidenced as they happen, achieving the company's aim of giving staff more time to spend with residents, supporting regulatory compliance and improving quality of care.
Jonathan Papworth and his brother Simon founded Person Centred Software in May 2013 as the first company in the UK to launch a mobile system to evidence care digitally within care homes and improve the quality of care for residents. To date, over 150,000 carers and nurses in the UK are trained on using Mobile Care Monitoring, evidencing 3 million care notes a day. Mobile Care Monitoring is the most widely-used digital care system in the UK, and most widely referred software provider within social care. Over 1,800 care homes use Mobile Care Monitoring with 94% rated Good or Outstanding by Care Quality Commission (CQC), the regulator of all health and social care services in England.
The app-based, icon-driven system requires limited need for typing, ideal for non-native speakers of English, those with dyslexia and non-IT literate people. On average, care homes evidence 51 care notes per resident per day, which just isn't possible on paper or many other systems. 70% of care homes in the UK still evidence care on paper and the company is on a mission to educate the social care sector about the benefits of going digital to drive outstanding care.
Person Centred Software stores over 1.5 billion care notes to date. No other digital care planning software has this measurement of multiple pieces of data. The volume of data recording and analysis tools in Mobile Care Monitoring gives care providers insights on care they never had before. The system helps providers measure the effectiveness of care and use analytics to reduce risks. For instance, monitoring residents' fluid intake can lead up to a 33% reduction in falls and UTIs. In November 2019, Person Centred Software was named as one of the fastest growing tech companies in the UK by the Deloitte UK Technology Fast 50.
Jonathan Papworth, Co-Founder and Director at Person Centred Software said: "Winning a place on the Deloitte listing is a significant milestone for the business. Our growth has been rapid, but for us, this is just the start. The opportunity in social care tech is huge – particularly when over 70% of care homes in the UK are relying on slow, costly paper processes that our company can digitise in a day. "We started the company to help improve standards in social care. We are on a mission to support outstanding care for some of the most vulnerable people in society. We know from 20 years' experience developing technology for the care sector that only passion can create change – and we continue to stay at the helm of the business to help drive digital development in the future."
The outbreak of Coronavirus hugely affected vulnerable residents living within care homes. It also affected the staff providing care and the longevity of businesses across the UK that provide a care home to residents. Person Centred Software has developed an agile product, which meant that the company could make quick changes to it in response to the outbreak. It incorporated an action icon into its Care App so staff could record coronavirus symptoms displayed by residents and communicate them automatically on the handover.
The company added a staff audit tool to analyse the symptoms that staff show, and hours they work, so that care providers can understand what's happening in their business. A new track and trace feature was developed so care homes could plan responses and protect residents. To support communication about infections within care homes, Person Centred Software enabled an icon to appear on the Care App against a resident's record if they have shown symptoms of an infectious disease so that additional precautions can be taken to reduce the risk of spreading the disease. To overcome feelings of loneliness and enable relatives and loved ones to stay in contact, Person Centred Software facilitated communication through its Relatives Gateway portal as a vital lifeline for families.
Care homes were struggling with the huge increase in phone calls to homes from families requesting updates on their loved ones so the company worked quickly to create and release a free version of its Relatives Gateway platform for all UK care homes in March with new video calling functionality free of charge for the duration of the pandemic. Person Centred Software sent daily benchmarking emails to care homes with anonymised data that showed the mortality rate in care homes. This data was provided more than 10 days in advance of published Government data from the Office of National Statistics, the Care Quality Commission, and the NHS to help care homes see the real time picture of the sector. This was vital information and reassurance for thousands of small or single care home businesses across the UK, who received very little contact from official sources such as local authorities at the beginning of the outbreak.
Overnight, Person Centred Software changed from on-site to remote demonstrations, implementations, and training to avoid physical contact with care homes. The company quickly adjusted training plans, documentation, and videos to accommodate a higher level of remote support for care homes during the pandemic. To protect residents and staff from the risk of spreading Coronavirus, Person Centred Software supports care homes to replace traditional paper documentation with clinical grade handheld Ascom Myco3 devices, which can be wiped down and disinfected. Paper and plastic folders containing resident care plans can have Covid-19 active on paper for 24 hours and up to 72 hours on plastic folders, whereas Ascom Myco3 devices are specifically designed for medical environments, can be easily disinfected, and are optimised for use with medical gloves.
The changes that Person Centred Software made were vital to help care homes to reduce the spread of infection.
David Crabtree, Owner of Crabtree Care Homes said, "Many of our residents who contracted Coronavirus said that they had pain in their legs as a first sign, which was not an official symptom. Without accurate recording using Mobile Care Monitoring, we would have missed three days of symptoms in our residents."
David Crabtree added, "The daily benchmarking emails from Person Centred Software were essential contact for us. For a company to stand by us and not try to sell us a product shows that Person Centred Software is involved in delivering care, not just delivering software."
Care homes were impressed by the quality and ease of remote demonstrations and training. In April 2020, Paula Howlett, Care Manager at Abbeyfield (Somerset) Society, received online implementation training, "Person Centred Software's training team responded to the challenge of Covid-19 impeccably. There were real benefits to remote training. I'd recommend remote training over on-site training."
There was a 50% increase in usage of the Relatives Gateway platform since the COVID-19 outbreak began, with more than 5,200 monthly users.
A Registered Manager at The Beeches Nursing Home said, "The video link is amazing and will be so helpful especially during this crisis. It makes Person Centred Software unique and so attractive!"
In June 2020, deaths in care homes had gone back to the seasonal norm, but occupancy rates are lower than usual. Person Centred Software's system is instrumental in increasing families' trust in care homes to increase occupancy and support care homes to recover financially. David Crabtree says, "The system is absolutely a unique selling point for our business. It shows families that we're committed to delivering care. It shows our transparency and openness; it means we can give families accurate information about their loved one whenever they want it."
Person Centred Software is helping care homes build a stronger, more resilient future post-COVID by using state-of-the-art digital services to improve their businesses. In June 2020, Person Centred Software launched a major campaign 'Care Home of the Future', with its partners Ascom UK, ATLAS eMAR and PainChek, to support care homes on their digital journey. Over 300 people signed up to a free webinar to raise awareness of the benefits of having technology at the heart of care.
Professor Martin Green OBE, Chief Executive of Care England, one of the panellists on the webinar said: "Technology offers the opportunity for the care sector to move into the 21st-century and to deliver better outcomes for the people that we support, as well as reducing the burden on staff and improving efficiency."
With over 70% of care homes still reliant on paper systems, Person Centred Software believes integrated, best-in-class technology is crucial. It is actively encouraging all care homes to take advantage of the Government's £600m Adult Social Care Infection Control Fund to enable carers to be prepared for any subsequent waves of Covid-19.