Maeve Magner, Superintendent Pharmacist of TCP Homecare, who have been treating patients from the comfort of their own residences for 20 years, illuminates how the pharmacy service 'brings it all home' and how 'the little things are actually the big things'
TCP Homecare has been present in Ireland for 20 years as a leading end-to-end provider of clinical services provision in the community setting.
I have been working as the Superintendent Pharmacist in TCP for seven years. It is the emphasis on patient-centric care and quality of service at the heart of our ethos that has led to our ability to grow exponentially in the breadth of services offered.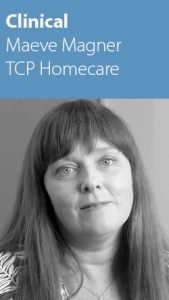 TCP is the largest provider of clinical homecare services in Ireland. As the Superintendent Pharmacist my role is to ensure accurate and timely dispensing of medicines and adherence to the regulations of the Pharmaceutical Society of Ireland. I manage a team of pharmacists within the organisation.
Mitigation plan
We are an exceptional pharmacy in that some of the drugs dispensed are only available in the supply chain via TCP in Ireland. As there is a potential supply chain challenge in the context of the Covid-19 pandemic and Brexit fallout we have carried out a detailed risk assessment and mitigation plan which remain under ongoing review in parallel with external circumstances changing.
All-encompassing service
We provide medications and/or care for patients in some rare therapeutic areas such as haemophilia, Gaucher disease, Fabry disease, atypical haemolytic uraemic syndrome (aHUS), along with more common therapeutic areas such as migraine, Parkinson's disease, multiple sclerosis, parenteral nutrition and antimicrobials. Our service is all-encompassing, and we can offer not only pharmacy services, but nurse administration, training, and support with patient adherence programmes. A key role for our clinical pharmacists is to work closely with our remotely based nursing teams, to provide advice and information in relation to medicine administration.
Community care
We specialise in supporting the movement of patients out from the hospital setting to the community for their clinical care. Without this type of service, many would have to either remain in hospital or travel frequently to hospital for care.
In terms of therapies suited to community administration there are many, including orphan drugs (medicines used to treat rare or ultra-rare disease), various intravenous therapies, haemophilia blood clotting factors, and immunotherapies. We also oversee some pilot programmes or early access programmes before new medicines are reimbursed for community use. These medicines are generally unavailable in the patient's local community pharmacy and are not routinely available in all hospitals.
Covid-19 lockdown
During the initial period of Covid-19 lockdown restrictions, we worked with all stakeholders to ensure no interruption to drug supply for patients — as in some cases there was no alternative supplier.
Haemophilia
Haemophilia is one such example, where TCP are the sole supplier for home care patients outside of the hospital setting. Haemophilia is an inherited bleeding disorder in which there is a deficiency or lack of factor VIII (haemophilia A) or factor IX (haemophilia B). Haemophilia impairs the body's ability to make blood clots, an essential process needed to stop bleeding. This results in people bleeding for a longer time after an injury, simple bruising, and an increased risk of bleeding inside joints or the brain, which can potentially have serious consequences if left untreated.
There are two main types of haemophilia: haemophilia A, which occurs due to low amounts of clotting factor VIII, and haemophilia B, which occurs due to low levels of clotting factor IX. They are typically inherited from one's parents through an X chromosome carrying a non-functional gene.
Haemophilia is classified as a rare disease, haemophilia A affects about 1 in 5,000 to 10,000, while haemophilia B affects about 1 in 40,000, males at birth. As haemophilia A and B are both X-linked recessive disorders, females are rarely severely affected.
TCP dispense and deliver home treatment via cold chain (validated transport conditions between 2 and 8°C) to patients with severe haemophilia around Ireland. Individuals with less than 1 per cent active factor are classified as having severe haemophilia. Treatment centres on the use of intravenous clotting factors using products such as recombinant factor VIII and IX, which patients take as prophylaxis and also to treat bleeds.
TCP have been involved in several clinical trials run through the haemophilia centres in recent years. We have seen a progressive move to longer-acting blood factors, and some new subcutaneous monoclonal antibodies.
This brings the benefit of a less frequent injection regimen. This is particularly advantageous for paediatric patients.
We have seen patients move from daily or alternate daily dosing, to dosing that might be once or twice a week, or in some cases every 10 days. This has a really positive impact on the quality of life of patients.
Two-pronged approach
During our planning for the implications on our service provision during Covid, we needed to consider what other sources of medication supply a patient would have, if any, outside of TCP Pharmacy. We took a two-pronged approach to managing our contingency plan — ensuring that we protected our staff so we could maintain the service and reassuring our patients by giving them an additional supply of rare medication where indicated. Given the criticality of the medicines and the therapeutic areas we work in, it was imperative to work towards ensuring no gaps in supply.
We have implemented multiple measures within Pharmacy in response to the pandemic challenge. We implemented split shift patterns for those on site with team segregation and home working for those providing the clinical service for OPAT (outpatient antimicrobial therapy) service.
IT capability
Due to IT capability it is possible for our pharmacists to review clinical data remotely and safely in real time. This is critical as a hospital pharmacy review of all medications is not always possible in a case of hospital to community transfer.
The clinical pharmacist will review the intravenous antibiotic prescription. Clinical pharmacy review is geared towards parameters such as renal function, concurrent therapy and drug interactions, confirmation of dosage and frequency, spectrum of cover of the chosen antibiotic for a particular infection. We will link in with prescribing teams to discuss any recommendations. This supports the best clinical outcome for patients.
ICARE values
I work with a variety of staff which include a team of TCP pharmacists, supported by drivers, warehouse personnel, pharmacy technicians, quality and customer service teams who consistently work to our organisational values known as ICARE (Integrity, Customer First, Accountability, Respect and Excellence).
The delivery of cold chain products and medicines such as clotting factors to the patient home setting requires a rigorous background process that includes transport van validation, the provision of patient counselling on the appropriate use of medicines, the principles of stock rotation and the ability to problem solve and trouble shoot.
An emergency with a patient storage fridge, for example requires a timely response to ensure product preservation and to prevent wastage of very expensive medication. Our patients are distributed nationwide which can provide logistical challenges at times. One example is the big storm of 2018 when our drivers left Dublin early morning for some very long days in treacherous snow conditions.
Parenteral Nutrition Service
Every day is different in TCP. One of the days that stands out for me over the years include the day we got a thank you card from the family of a patient my own age on our PN (Parenteral Nutrition) service. PN is indicated for patients with long-term absorption challenges such as those who may have short bowel syndrome or severe Crohn's disease, and it may be indicated for cancer service users, where there may be damage to the intestinal function, or patients may require a level of nutritional support due to the impact of a tumour or its treatment (such as chemotherapy).
PN is given via the intravenous route, bypassing the gastrointestinal tract. It is manufactured specifically based on the direction of a clinical dietician, taking into account the individual unique nutritional requirements for a particular patient. TCP dispense and deliver patient-specific PN bags and ancillaries to patients weekly. Our clinical pharmacy team review the prescription and order for changes each week, liaising with the dietitians and the compounding unit daily.
A thank you card
This gentleman patient had passed away tragically before his time from cancer. His family, in the thank you card, appreciated how the service had allowed him to spend his final months at home with them and avoid hospital — how much that time had meant to his family and how grateful they were for that. Sometimes standing in the fridge checking and reviewing the contents of a bag of intravenous nutrition made specifically for a patient can seem so ordinary and mundane.
When you receive a thank you card of that nature it brings it all home — the level of support that we offer our patients, and how the little things are actually big things.

Maeve Magner is Superintendent Pharmacist at TCP Homecare.
In association with TCP Homecare.
https://www.imt.ie/clinical/tcps-pharmacy-service-focal-quality-home-care-13-11-2020/