A report presented to the US Congress last Wednesday (15/6) warns of the risks of a flea and tick collar made by Bayer, which would hit 100,000 pets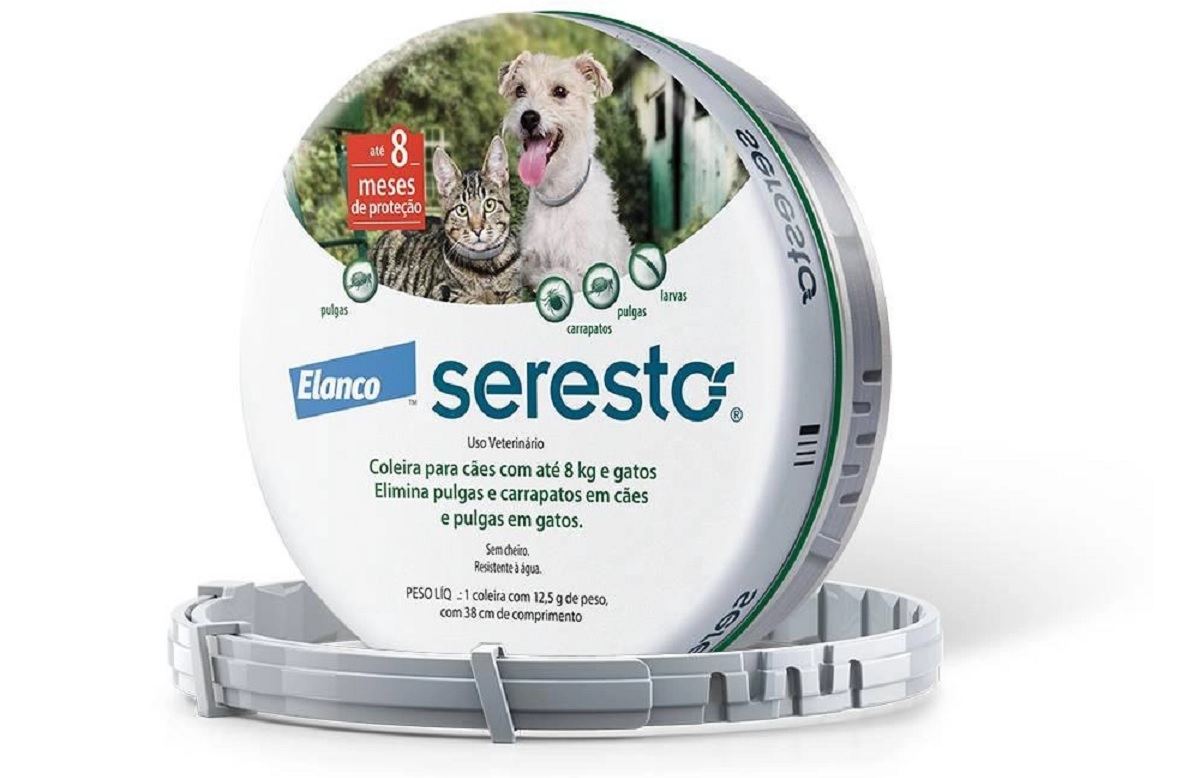 The famous Seresto flea and tick necklace, created by the German biopharmaceutical company Bayer, has been accused of causing 100,000 incidents and 2,500 deaths of dogs and cats in the United States. The problem is contained in a report presented to the US Congress, CBS News reports.
Nearly 34 million of these pesticide collars have been sold to U.S. pet owners since 2013, promising to keep ticks and fleas away for up to eight months, compared to other treatments applied monthly. But Bayer's product has been linked to more reports of pet deaths and illnesses than competitors, according to a report by the U.S. Congressional Commission on Economic and Consumer Policy's Supervisory and Reform Commission.
As the broadcaster shows, the document highlights the number of reports of illness or death that owners linked to the necklace, as well as Canada's decision to ban the sale of Serest because product safety reviews and toxicological studies found it "poses too great a risk to pets and owners." Canada. "
During a committee hearing last Wednesday (15/6), Elanco Animal Health CEO Jeffrey Simmons, who bought the animal health sector from Bayer 2020, told congressmen that the collar was safe and approved by the Health Agency. animals. Environmental protection, undergoing more than 80 safety, toxicity and efficacy studies.
"Reports of adverse events are not evidence of causality. We did not find any deaths due to the ingredients in the collar, "a company representative commented at a hearing of the Commission for Supervision and Reform, citing CBS News.
In 2021, there were just over 17 incidents for every 10,000 collars sold, and most of the problems involved irritation or redness, according to Elanco. In a statement for American television, the company explains that the analysis of all reports from 2013 to 2021 shows "there is no established connection between the active ingredients of Serest and the death of pets."
Symptoms in pets
A report presented to the US Congress states that the Canadian Pest Regulatory Agency found that, using Elanco's flea and tick collar, hundreds of pets showed symptoms such as lesions and skin irritation, which sometimes took up large areas of the animal's body and did not heal after removal of the product. Other symptoms include lethargy, abnormal behavior, excessive care and vocalization, vomiting, diarrhea, and anorexia.
"These worrying symptoms appeared soon after I started using Seresto collars, especially in the first month. Many pet owners have responded by removing their pet's collars as soon as possible.
The document presented to congressmen included several recommendations, such as Elanco's voluntary withdrawal of collars. He also suggests that the Environmental Protection Agency revise its pesticide product review process.
.